Koos Smit (Jacobus Cornelis Maria Smit) Born in Berkel-Rodenrijs, The Netherlands.
Koos has been working as a selftaught artist up till 1980.
In 1981 he took lessons in painting at the "Vrije Akademie" in Rotterdam, and continued his studies in fine art and painting in 1983 at the "Koninklijke Akademie voor Beeldende Kunsten" in The Hague.
In 1988 he graduated successfuly .
Since that time Koos has been working as an independent artist and has had many exhibitions in a variety of galleries and art-promoting institutions, as well as in The Netherlands as abroad.

Momentarily, Smit is mainly working with acryllic paint on canvas.
With a combination of acryllics and varnishes he has managed to attain a quality, comparable to oil-paintings, in structure, depth and coloration.
By bringing in pieces of paper, textiles and pigments he attains structure and relief and the paintings acquire depth by strong lines and robust primairy colorfields.
The refinement of beautiful, saturated color intensities, arises through many layers of thin paint (glaze).
Choosing for acryllic paints gives him the possibility to work prolonged, as well as fast and dedicated.
During certain stages of the proces of painting it is important to work fast, to be able to stick to that moment of intuition and inspiration and thus attain the dynamics of the composition, in which a unique, pictorial world comes alive.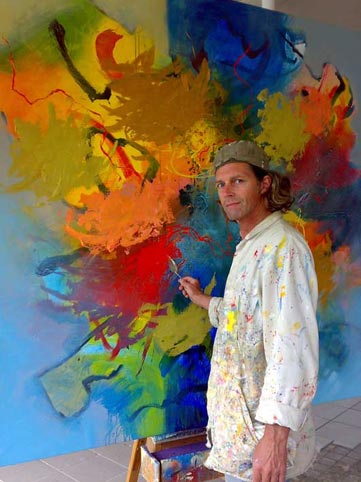 Koos Smit (Jacobus Cornelis Maria Smit) Geboren in Berkel-Rodenrijs.
Was tot 1980 als autodidact werkzaam in de fijnschilderkunst.
In 1981 begon hij een opleiding aan de "Vrije Academie van Rotterdam", en vervolgde deze in 1983 aan de"Koninklijke Academie voor Beeldende Kunsten" in Den Haag, welke opleiding hij in 1988 succesvol afsloot. Sinds die tijd is Koos Smit als zelfstandig Beeldend kunstenaar actief en exposeerde hij op diverse locaties in zowel binnen als buiten de landsgrenzen.

Koos werkt op dit moment na veel experimenteren , voornamelijk met acryl op linnen.
Mede door de sterk verbeterde kwaliteit en mogelijkheden van zowel acrylverf als de vernis, heeft hij een met olieverf op linnen vergelijkbaar kwaliteit en houdbaarheid niveau bereikt.
Door een opzet waarin op bescheiden wijze pigment , papier of textiel op het doek wordt aangebracht, ontstaan structuren en reliëfs.
Vervolgens komt in grote lijnen en forse kleurvlakken de onderschildering tot stand.
Hierna de verfijning en vervloeiing , bestaande uit vele dunne lagen verf ( glacis ), waarmee gelaagdheid en een prachtig verzadigde kleurintensiteit wordt bereikt.
De keuze voor acrylverf geeft hem de mogelijkheid langdurig ,maar ook snel en gedreven door te werken.
Dit is van belang omdat hij hierdoor zijn intuïtie kan volgen , en de dynamiek behouden blijft.
Als compositorisch ook alles zijn plaats heeft gekregen is er een unieke eigen picturale wereld ontstaan .